Listening and Storytelling with the Land:
A Spring Writing Circle
Four Sundays 10:00 am – 4:00 pm
April 11 – May 2, 2021
Guided by April Tierney and Lauren Golten
at Wild Tinaja Ridge
near Lyons, CO
Each blade of grass has a story to tell; as does every mountainside, meadowlark, howling wind, and bewildering human being. The world hungers for these stories, like parched Earth yearning for rain or shooting stars longing for our lifted gaze. 
One important way to respond to this longing is by listening for the language, images, and metaphors that honor the stories we are meant to tell. Developing a skill for deep listening is essential for our creative work. With our ears, yes––but also with our bones, and backs, and beating hearts. This is an embodied way of being in relationship with all that is around us, and it is the most honest place to begin as a writer and human being.
Over the course of a month, we will spend four spacious days on the land, listening to more than our own rational minds by cultivating the art of paying attention to the more-than-human community. Together, we'll follow the call of our inner landscape to where these experiences meet the world around us, alongside a band of travelers who will be our faithful listeners and fellow storytellers. All of this in service to our world; to carrying back what we hear as a gift for the times we are living in––so that when we do put pen to page (during our days together and for the rest of our days) it will be in a soul-drenched, subversive, and life-serving way.
Join us if you are interested in…
Cultivating the life-affirming practice of deep listening
Nurturing a regenerative relationship with writing and storytelling
Spending time in nature connecting with the more-than-human world
Being part of a community in service to your creative wellspring
Program details:
We will meet for four consecutive Sundays, from 10:00 a.m.- 4:00 p.m., with a committed group of no more than 8 participants (10 people maximum, including the guides)
Dates:  April 11, April 18, April 25, and May 2
We will be meeting on special, private land near Lyons, CO (a 15 minute drive from the town of Lyons, 35 minutes from Boulder). In the incidence of spring snow that prohibits driving up here and being outside all day, we will do an online hybrid portion of the program, where you will be invited to wander, listen and write in a place near your home, then come back for human connection, sharing, storytelling and council over Zoom. The natural world can be found everywhere, even in urban and suburban settings, and it is often these places that most long for our artful witnessing.
We will be practicing Covid-safe guidelines, including:
We will stay outside the entire time when we gather together in person
Maintaining at least 6 ft. distance (and more when desired)
Wearing masks when closer than 6 ft. together
Having a group of 10 people or fewer, including guides
Asking folks to stay home if they've had contact with someone who was Covid-positive, are not feeling well, have a fever or any other Covid symptoms
Group size is limited.  Sign up today!
Scroll down for registration info
---
Your guides:
April and Lauren are neighbors, co-conspirators, fellow listeners, and sisters of the springtime vigil learning how to be stewards of a place and their own tenderized hearts. Tinaja Ridge is a gem of wild land on the edge of National Forest, populated by Ponderosa Pine trees, granite outcroppings, bobcats and foxes, owls, wild turkeys and songbirds. We look forward to welcoming you to our home ground.
April Tierney is the author of two full length collections of poetry, a chapbook, and photographic anthology. Her work has been featured in Orion Magazine, Wild Fibers, and Real Ground Journal, among other publications. She is the co-founder of Fire Feeders, a women's writing collective and collaborative press along the foothills of the Rocky Mountains. Her background is steeped in the study of language, culture, artisanship, and the skills of human-making through Animas Valley Institute, The Work That Reconnects, and Orphan Wisdom School.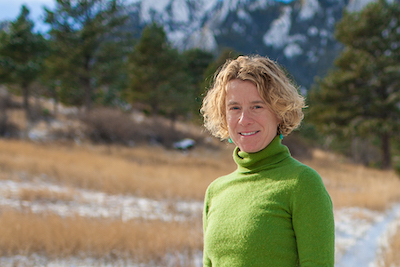 Lauren Golten, MA, MS, is a nature-based therapist and a group facilitator of Matrix Leadership, the Wild Mind model of Animas Valley Institute, and The Work That Reconnects. Her former study and practice of wildlife biology and her love of natural history inform her relationship with her work and her writing. She sees clients and leads nature-based programs held at her home-place of Tinaja Ridge.
---
 Listening and Storytelling with the Land:
A Spring Writing Circle
at Wild Tinaja Ridge
near Lyons, CO
Sundays 10:00 am – 4:00 pm
April 11 – May 2, 2021
Tuition: $450 – $575 (sliding scale)
We offer this on a sliding scale to make it accessible to the widest range of folks.
If you are able to pay at the higher end, please do so, as this makes it possible for us to offer it at a lower rate to those who need it.
---
REGISTRATION
To register, please send a brief email to Lauren at lagolten@gmail.com
and use the PayPal links below:
>> Save your spot with $100 non-refundable deposit (Online registration form + PayPal)
>> Pay balance or full tuition: $450-$575 (fill in the amount you'll pay)
You can also send payment via Venmo to @Gene-Dilworth,
or GooglePay to genedilworth@gmail.com
(these services charge no fees at either end if you use a debit card or bank account)
If you have any questions, need more info, or would prefer to pay by cash or check,
please contact Lauren at lagolten@gmail.com or 303-641-6333.