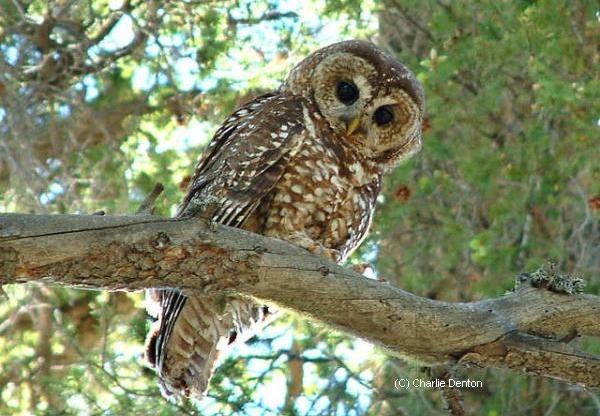 Dark Guardian
(for Mexican Spotted Owl)
On silent wing spirit flies
beneath Doug Fir, broad silhouette
against dawn sky.
Dark guardian of the deep
forest, calling   hoo!
hoo-hoo!       hoo!
Who follows whom?
down steep ravine, past
boulder, aspen, snag and columbine
to a small and sheltered oak grove
where, with the gravity
of lovers testing boundaries
of sacred communion and death,
our eyes meet
and hold
and we're lost for an instant
in the world of the other. You
are inquisitive, curious,
studying me.   And I
am hunting, eating the darkness
of the forest floor,
bones and blood
inside my feathered body,
and I sing a song
of creation, again
for all who dream
the wild alive.
Copyright © 1996 Gene Dilworth