Listening Beyond the Edge of Knowing:
A Nature-based Writing Circle
Four Sundays 10:00 am – 4:00 pm
September 27 – October 18, 2020
Guided by April Tierney and Lauren Golten
at Wild Tinaja Ridge
near Lyons, CO
Many of us think we need to know what we will write before we begin. But the truth is, the unknown is always the way forward, on the page, and through the thick forest of life. One  important approach to this mysterious opening in our creative work is developing a skill for deep listening. With our ears, yes––but also with our bones, and backs, and beating hearts. It's an embodied way of being in relationship with the world, and the most honest place to begin as a writer and human being.
Over the course of a month, we will spend four spacious days on wild land, listening to more than our own limited minds by cultivating the art of paying attention to the more-than-human world. We'll attend to the wind billowing songlines through the trees, the canyon wren carrying stories in her beak from the underbelly of night, the honorable wisdom of our fellow humans, rocks, sun, and sky. All of this in service to our world; to carrying back what we hear, like the wren, as a gift for the times we are living in––so that when we do put pen to page (during our days together and for the rest of our days) it will be in a soul-drenched, subversive, and life-serving way.
Together we'll follow the longing of our inner landscape to where our experiences meet the world around us, alongside a band of travelers who will be our faithful listeners and fellow story-tellers. All of this is supported by an enchanting, wild place in nature where we will gather in good company each week.
Join us if you are interested in…
Cultivating the life-affirming practice of deep listening
Nurturing a regenerative relationship with your writing
Spending time in nature connecting with the more-than-human world
Being part of a community in service to your creative wellspring
Program details:
We will meet for four consecutive Sundays, from 10 a.m.- 4 p.m., with a committed group of no more than 8 participants (10 people maximum, including the guides)
Dates:  September 27*, October 4, 11, and 18
*As Sept 27 is the eve of Yom Kippur, we will plan to end at 3 p.m. if any participants need more transition time this afternoon.
We will be practicing Covid-safe guidelines, including:
Gathering outside the entire time
Maintaining at least 6 ft. distance (and more when desired)
Wearing masks when closer than 6 ft. together
Having a group of 10 people or fewer, including guides
Asking folks to stay home if they've had contact with someone who was Covid-positive, are not feeling well, have a fever or respiratory symptoms
We will meet on private land outside of Lyons, CO (plan for 15 minute drive from Lyons; 35-40 minutes from Boulder)
Cost: $425- $575 sliding scale (please pay what you can; if you can afford to pay more, you will help someone attend who can pay less)
Group size is limited.  Sign up today!
Scroll down for registration info
---
Your guides:
April and Lauren are neighbors, co-conspirators, fellow listeners, and sisters of the springtime vigil learning how to be stewards of a place and their own tenderized hearts. Tinaja Ridge is a gem of wild land on the edge of National Forest, populated by Ponderosa Pine trees, granite outcroppings, bobcats and foxes, owls, wild turkeys and songbirds. We look forward to welcoming you to our home ground.
April Tierney is the author of two full length collections of poetry, a chapbook, and forthcoming photographic anthology. Her work has been featured in Orion Magazine and Wild Fibers, among other publications. She is the co-founder of Fire Feeders, a women's writing collective and collaborative press along the foothills of the Rocky Mountains. Her background is steeped in the study of language, culture, crafts(wo)manship, and the skills of human-making through Animas Valley Institute, The Work That Reconnects, and Orphan Wisdom School.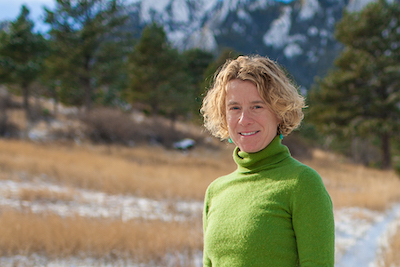 Lauren Golten, MA, MS, is a nature-based therapist and a group facilitator of Matrix Leadership, the Wild Mind model of Animas Valley Institute, and The Work That Reconnects. Her former study and practice of wildlife biology and her love of natural history inform her relationship with her work and her writing. She sees clients and leads nature-based programs held at her home-place of Tinaja Ridge.
---
 Listening Beyond the Edge of Knowing:
A Nature-based Writing Circle
at Wild Tinaja Ridge
near Lyons, CO
Sundays 10:00 am – 4:00 pm
September 27 – October 18, 2020
Cost: $425 – $575
(Sliding scale tuition — please pay what you can.
If you can afford to pay more, you will help someone attend who can pay less!)
---
REGISTRATION
To register, please send a brief email to Lauren at lagolten@gmail.com
and use the PayPal links below:
>> $100 non-refundable deposit to hold your spot  (PayPal)
>> Full tuition or balance payment: $425-$575  (fill in the amount you'll pay)
You can also pay via GooglePay to genedilworth@gmail.com, or Venmo to @Gene-Dilworth
(these services charge no fees at either end if you use a debit card or bank account)
If you have any questions, need more info, or would prefer to pay by cash or check,
please contact Lauren at lagolten@gmail.com or 303-641-6333.